The MIT CTL Supply Chain Design Lab conducts innovative research to help companies adopt new supply chain design paradigms.
Supply chain design is the foundation of strategic supply chain planning, a key for organizations to create value. As supply chains become more end-customer-focused and global, their design becomes paramount as a competitive differentiator.
The MIT CTL Supply Chain Design Lab conducts innovative research to help organizations implement a value-driven, collaborative co-design process. We employ and develop visual analytics decision-support tools, that enable intuitive interaction with quantitative methods to support a data-driven decision-making processes.
The New Competitive Edge
Analytics-Driven Supply Chain Design
An Executive Guide
Learn how to address the growing need to rethink your supply chain design approaches.
Understand the four opportunities to leverage new supply chain design paradigms:
Extend the scope of supply chain design




Incorporate tactical decision making

Account and plan for risk and resilience

Adapt new technologies and business models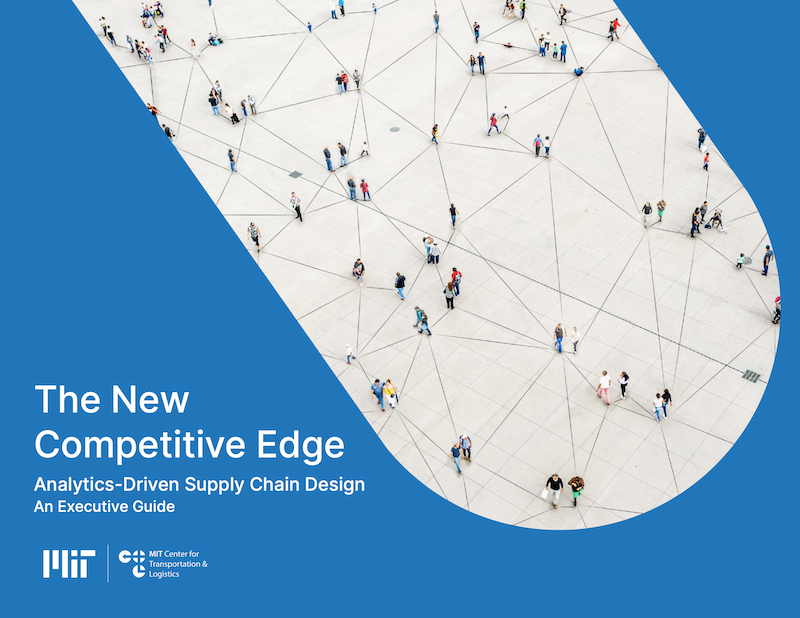 This white paper is the fruit of a collaboration between the Massachusetts Institute of Technology's Center for Transportation & Logistics (MIT CTL) and Coupa, the provider of artificial intelligence (AI)-powered supply chain analytics software. 
Empower your teams with robust decision-making processes and technology that can support them, elevating the management of your supply chain's complexity through the simplicity of scenario building, multi-tier discussions, and probabilistic decision-making paradigms.
Traditional supply chain designs and methodologies have become outdated, creating risk for today's businesses. To model a new world, you need new thinking and new tools.
We focus on the development of new quantitative methods for supply chain design and the use of visual analytics to facilitate a cross-functional co-design process.
End-to-end optimization of global supply chain networks
Global supply chains spanning multiple jurisdictions and support channels while serving diverse markets are increasingly complex to manage and design. Our research combines optimization, simulation, and machine learning methods for end-to-end optimization of complex global networks.
Example project:
Our research team worked with a global manufacturer on the redesign of its global distribution network encompassing several thousand products across a multitude of logistics facilities and customer clusters. The team used network topology analysis to identify facilities with best position in the network and a machine learning method for a realistic estimation of logistics costs in this highly complex network. These were incorporated in a visual interface that provided end-to-end network cost performance indicators and identified promising changes in network configuration.
Design of customer-centric supply chains
Customer-centricity is a key requirement of supply chains today. We investigate trade-offs between logistics costs and customer performance to design data-driven, customer-centric supply chains with multiple differentiated channel strategies.
Example project:
Our research team worked with a global pharmaceutical company to design a last-mile channel strategy for the launch of a new product. We considered a range of metrics, including logistics cost, service costs, delivery lead times, customer channel preferences, and inventory capital costs. We assessed the performance of various channel options to identify those offering best trade-offs according to decision-maker's preferences and identify inflection points between different options.
Sustainable supply chain design
Sustainability has become a high priority for organizations worldwide, putting supply chains squarely in the spotlight. We use state-of-the art methodologies for evaluating the economic, social, and environmental costs of supply chains and incorporate them into broad network design models, leading to sustainable designs across all dimensions of the triple bottom line.
Example project:
Our research team is developing a methodology for assessing the environmental impact of pharmaceutical airfreight shipments based on the characteristics of the cargo, transport and containers. This methodology is incorporated in a network design model and applied to a comprehensive set of case studies, reflecting real-life cold-chain pharmaceutical logistics. Based on this analysis, companies can identify optimal logistics solutions that allow to decrease the emissions of cold chain pharmaceutical logistics.
Supply chain design incorporating risk and uncertainty
Disruption and uncertainty have all increased in the recent years, requiring new methods for integrating risk and resilience in supply chain designs. We combine scenario planning with enhanced optimization methods to develop supply chain design models that proactively incorporate risk and uncertainty, yield the highest performance across a range of scenarios and achieve highest returns on investment in resilience.
Example project:
Our team of researchers collaborated with a global manufacturer wishing to explore the impact of uncertainties and disruptions on their network configuration. We developed a network design model and an interactive visual interface which allowed to simulate variations in the demand for various products and across various geographies and to simulate the effects of disruptions and shortages at specific nodes in the network. The model propose the optimal options for ensuring business continuity.
We offer a variety of in-person and online professional development courses. Our courses incorporate lectures and case studies that place learning in realistic industry contexts. In addition, we use interactive applications, where learners can simulate various supply chain design strategies, inspired by the MIT culture of learning by doing.
We work with organizations to develop and teach professional development courses on supply chain design, tailored around their specific needs.
In-person courses
Our in-person courses take place over one or several days at MIT. Examples of such courses include: learning about key trade-offs in supply chain design or the role of inventory in supply chain design. In-person courses afford the opportunity to meet our instructors and network both within and across organizations.
Online Courses
Our online courses take place asynchronously over several weeks or months using a comprehensive menu of materials from the MITx MicroMasters® Program in Supply Chain Management or custom content created for companies. We curate lesson plans with the organization and augment learning with live synchronous online events. 
An amazing experience to learn and explore supply chain design from theoretical background all the way to an actual application and hands-on experience with interactive visual interfaces and simulations. Fully recommended to anyone with the need to understand supply chain better.
TEAM & ASSOCIATED RESEARCHERS
Milena's current research focuses on the design of supply chain networks. Her work focuses on improving decision-making in supply chain design through the use of data-driven optimization and simulation models and their integration into interactive visual tools.
Austin's research interests include using analytics techniques (predictive, prescriptive, causal, decision analysis, visual) to solve supply chain problems (supply chain design, routing, inventory).

Luc Gendre is a master's student in the Technology and Policy Program at MIT. He works on developing visual analytics tools to facilitate supply chain design.

Juan Carlos' research focuses on quantitative modeling for dynamic routing in the context of global supply chains, vehicle routing and urban distribution network design.

Matthias's current research focuses on multi-tier distribution network design in the context of urban logistics and last-mile delivery, urban freight policy and infrastructure design, as well as data analytics and visualization in an urban logistics context.
Jarrod is founder and director of the MIT Humanitarian Supply Chain Lab in the MIT Center for Transportation & Logistics. Dr. Goentzel has an extensive experience in supply chain design, information systems, and decision support technology.